About FMNP
Our Mission
The mission of the Florida Master Naturalist Program (FMNP) is to promote awareness, understanding, and respect of Florida's natural world among Florida's citizens and visitors.
The Florida Master Naturalist Program is an adult education UF/IFAS Extension program developed by the University of Florida and pro­vided by many Extension offices and participating organizations throughout the state of Florida. FMNP training will benefit persons interested in learning more about Florida's environment or wishing to increase their knowledge for use in education programs as volun­teers, employees, ecotourism guides, and others.
Thank you for your ongoing actions to help conserve Florida's environment so future generations may enjoy it!
History
Dr. Martin Main began developing the Florida Master Naturalist Program (FMNP) in 1999 following a 1998 south Florida eco-heritage workshop. He realized the great need for a professional development education program on Florida's natural history. "I believe that most people are genuinely interested and concerned about nature, and that as they learn more, their level of interest and concern increases. I was surprised, however, at the tremendous response to the FMNP, which I think is a very good indication that Floridians will work hard to ensure healthy environments, clean water, and diverse wildlife are available for future generations to enjoy."
Dr. Main has since contributed to the development of Master Naturalist programs in many other states and has won many awards. He is a Professor and Extension Specialist in the Department of Wildlife Ecology and Conservation at the University of Florida.
We are building a legacy of informed citizens to promote awareness, understanding, and respect of Florida's natural ecosystems. To ensure we continue inspiring conservation education and action for decades to come, we need to raise $2 million to establish an endowment for a FMNP Program Leader in perpetuity.
Ripples spread when a single pebble is dropped. Please click here if you wish to contribute to the FMNP Endowment Fund, or contact Dr. Main at mmain@ufl.edu to discuss options for a major gift.
Letter from Dr. Marty Main, FMNP Program Leader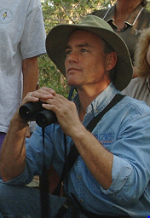 Greetings nature enthusiasts, life-long learners, and con­servation professionals.

We welcome you to join us and thousands of other interested and committed individuals in the Florida Master Naturalist Program (FMNP).

The FMNP is many things. It is a learning environment dedicated to Florida's natural history and conservation lead by knowledgeable and dedicated FMNP Instructors throughout the state. It is an opportunity to experience Florida's amazing natural world with others. It is a forum for discussing complex issues and learning to com­municate information to others. It is a place where new friendships are forged and personal commitments are strengthened to promote a greater understanding and appreciation of the value and importance of Florida's natural world.

Click here to support our mission or come join us and the thou­sands of FMNP graduates who are contributing in a multitude of ways to promote knowledge of, passion for, and sensible decisions affecting Florida's natural world.